Cabo Skydiving
Want to feel the rush of jumping out of a plane? Want to make it happen while you're vacationing in Cabo? Look no more. We provide top quality service with the newest gear, safety tested every day. Skydiving is life!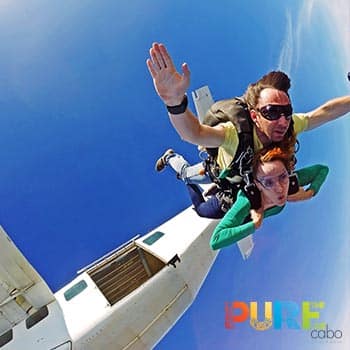 Our Certified, Professional SkyDive instructors will make sure you have an unforgettable time, they have thousands of hours of flight time and are hands down total experts. Where do you take off? Right from the local Cabo Airport, and yes, you land right on Medano Beach after you take an aerial tour of the world-famous Arch.
This adrenaline rush will be a freeing adventure you will never forget, prepare for the 3-2-1 countdown as you fly above the beautiful Cabo San Lucas coastline for a 40-second FREE FALL and 4-minute canopy glide!
Skydive in Cabo San Lucas
Skydiving can be a life-changing event for you. After a brief training session, you'll be ready to have the thrill of a lifetime!  You can also jump solo your first time and become the Skydiver you've always wanted to be with our first jump course class. Skydiving is perfect forTeam Building, a family outing, a wedding proposal or bachelor party. Pure Cabo is here to make sure you have a fun safe parachuting experience. For logistics purposes, we can only take 2 people at a time on Tandem Jumps which gives us a 1.5-hour window in between jumps.
Special Deal
2 Tandem Jumpers for $220 USD each person!
Single Tandem Jumper is #320 USD.
Contact us now to book your experience!
Searching Availability...