Cabo Shark Diving
We are the first Shark Dive company in Los Cabos. We specialize in shark snorkeling, free diving with sharks and all without a cage! This is a once-in-a-lifetime shark encounter experience in the heart of Cabo San Lucas! At Pure Cabo we have two concerns: your safety and the safety of our precious and misunderstood sharks in Los Cabos!
Searching Availability...
Swim with Sharks in Cabo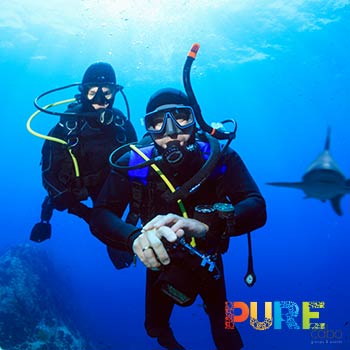 There are options for 1/2 day and full day Cabo shark dive tours where you will encounter Silky Sharks, Blue Sharks, Mako Sharks, Hammerheads, Mantas, Striped Marlin, and other big pelagic fish.
All our Cabo shark dive tours are guided by professionals; highly trained and qualified shark guides, multilingual PADI-certified instructors and marine biologists with many years of experience. The minimum age is 15 years old. You can snorkel with the Cabo Sharks or just stay on the boat and watch from above.
Private Cabo Shark Dive
We also offer Private Shark Free Dive and Snorkeling tours. These tours are in the Marine Protected Area of Cabo San Lucas, near the Arch. You'll come in contact with hundreds of species of fish and corals, sea turtles, mobulas and fascinating rock formations.
We are the first Cabo Shark Diving company in Cabo San Lucas. Our tour is the only boat at our diving locations. We guarantee an amazing and safe experience on any shark tour while ensuring the safety and conservation of sharks and the marine environments. If you are interested in a private tour or have questions regarding this activity please contact Pure Cabo.