Cabo Tequila Tasting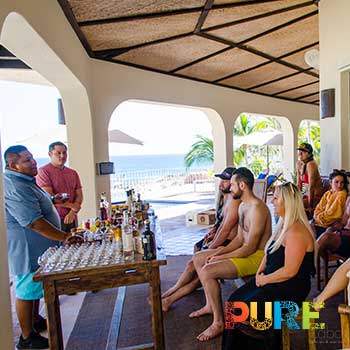 When in Mexico, it's almost a tradition to drink tequila and what better way to do it than a private tequila tasting experience in the comfort of your Villa or Residence? Pure Cabo provides everything for the best possible experience for your group.
Our Maestro Tequilero (Tequila Master) from Tequila, Jalisco in Mexico will explain the complete manufacturing process, plant origin, plant types, how flavors are determined and even the complete historical background of the family who produces each Tequila he presents.
We add in Mezcal to our tastings as well and have a definitive experience in Mexican hydration! Then you and your group can do both tequila tasting and mezcal tasting in the privacy of your villa or home. We bring in rare, limited batch tequila and mezcal's from private producers on a regular basis to use exclusively at our tequila tastings.
Tequila Tasting in Los Cabos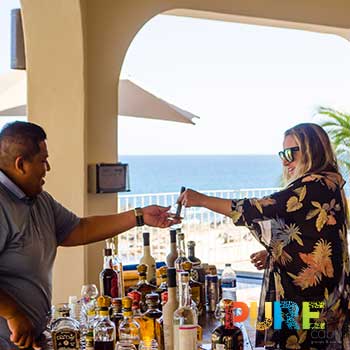 There are countless brands of Tequila in the market, however, some of the most delicious, pure and fine tequila is not presented in gold-plated bottles or has a fancy brand name and strong marketing campaigns. There are numerous families producing their own brands of Tequila and that's what you want to try, the authentic and traditional handmade Tequila at your own tequila tasting party.
The Maestro Tequilero brings bottles of different brands and types of Tequila for sampling. You get a history lession and by the end know the differences between blanco (silver), joven (gold), reposado (aged), añejo (extra aged) and extra añejo (ultra-aged).  We can even make the experience more memorable by including a Cigar Roller at the same time for an exotic mix of flavors and a great time with friends.
Private Tequila Tasting in Cabo
Yes- we offer private tequila and mezcal tastings at your home, villa or an arranged location. Please fill out the form below to get information, availability, and pricing.
---