ATV Cabo San Lucas
If you are looking for a fun family activity, one of our Cabo ATV tours is the perfect way to experience the lower Baja Peninsula. Baja California Sur is world-renowned for its picturesque off-road landscape, full of mountains of all sizes and deserted beaches all perfect to explore by ATV's. There is nothing quite as exhilarating as exploring the backcountry wilds on an all-terrain vehicle. Yes, we also have 2-person and 4-person Polaris RZRS too!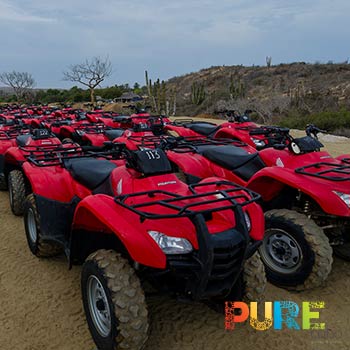 Cabo ATV Tours
You will start our ATV excursion 25 miles north of Cabo San Lucas. You will be amazed by the diverse terrain offering scenic canyons, dry riverbeds, and secluded beaches. Isolated from the major tourist areas, Playa Migriño offers quiet solitude and untainted natural beauty that will have you feeling refreshed and relaxed in no time. Chances are you'll even visit small towns deep in the mountains that appear to be that of Mexico over 100 years ago.
You can spend your time at Playa Migriño riding your ATV around the soft, white sand dunes, walking along the pristine shore or even whale watching if you are touring during the months of January through March.
Want to upgrade to a bigger & badder ATV?
Check out our new Sportsman 570! All time 4x4, electronic power steering, smart break system and individual suspension for a more comfortable ride.
---
Searching Availability...
---
Cabo ATV Tours
Pure Cabo provides transportation to and from your hotel or resort for all ATV Tours Cabo. We also provide cool refreshments, a bandana and all required safety equipment. All you need is some loose clothing for the weather, sneakers and a ton of ambition! You'll be running all across the Pacific and Baja desert in one of the best ATV excursions in Cabo San Lucas!