Cabo Dolphins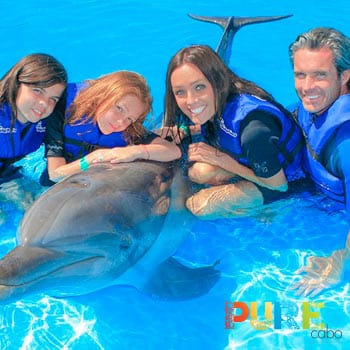 It's the ultimate Cabo Dolphin Experience! The ultimate family-friendly activity in Cabo is swimming with the dolphins. This is the beginning of an unforgettable experience with Cabo dolphins. Dolphins will conquer your heart before you even get into the water. Pure Cabo provides you with the opportunity to go swimming with dolphins in Cabo San Lucas and swimming with dolphins in San Jose del Cabo. No matter what side of Los Cabos you are on we have a local location to experience the dolphins in Cabo!
Dolphin Discovery Los Cabos, stands in a beautiful marina in San Jose del Cabo, a charming city by the sea in the state of Baja California Mexico. The place designed for your experience with our loving animals in an ocean cove where Dolphins feel in their natural habitat and you enjoy their company to the fullest.
---
Searching Availability...
Swim with Dolphins
Everyone dreams of swimming with dolphins and, at our Cabo Dolphins center, they host several Pacific Bottlenose dolphins eager to meet you. You will be able to speak and chat, handle and cuddle, swim with, take a ride and flirt with these charming creatures.
Cabo Dolphin Experience
You will wade into the shallow, clear waters of the dolphin lagoon to begin your "swim with dolphins" experience exclusive. At Cabo dolphins, you will get to know your new flipper friends, with warm hugs, kisses, and a thrilling one-on-one dolphin ride. Group sizes are kept small so you can make the most of this unforgettable life-altering opportunity with the ocean's most curious creatures.
Contact Pure Cabo or book online below to schedule you Cabo Dolphins activity.