Lovers Beach Cabo & Other Stunning Locations to Visit
If you're yearning for warm weather and sandy beaches, a Mexican vacation could be just the thing — specifically, a vacation at Cabo San Lucas. You'll find plenty of places to swim, snorkel, dive, and enjoy incredible Mexican food, with options to visit stunning locations like Lovers Beach.
Why You Need to Visit Lovers Beach
Accessible only by water taxi, Lovers Beach is a beautiful spot to spend a morning or even a whole day. It's remote, yet very near Cabo, so you won't need to travel very far by boat.
Lovers Beach, or Playa del Amor, got its name because it's where the Gulf and the Pacific waters meet. It's warm and blocked in by impressive rock formations, with calm water for swimming on the Sea of Cortez side. However, on the opposite side of the spit of land is Divorce Beach, where the Pacific Ocean pummels the rocks and sand, showing the other side of the marriage.
While the sandy beach is perfect for sunbathing, there's plenty to do here. For starters, you can snorkel and check out all the colorful fish. The Arch at Land's End is a great photography spot; you're bound to see it as you come in on the boat. Since this is a fairly secluded space, it's ideal for photography and enjoying downtime with a friend or special someone.
Make sure you bring sturdy shoes for exploring the rocks and some food. This is an all-natural beach, so there's nowhere to buy snacks or water.
Other Beaches to Check Out Near Cabo San Lucas
Since Cabo San Lucas is located at the very tip of Baja California, it's surrounded by water. This means plenty of unique places to visit if you're a beach lover. If Lovers Beach isn't what you're looking for, here are some other options.
El Medano Beach: Looking for a beach with a bit more infrastructure? El Medano features clean sand, warm water, and little beach bars and cafes. You can also rent an umbrella for extra shade. The only downside is that it's popular with tourists and locals alike.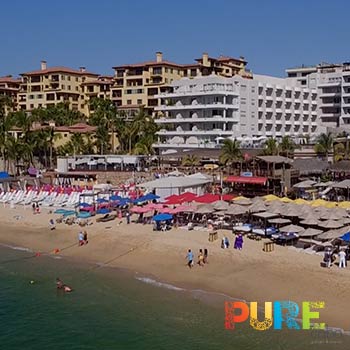 Pedregal Playa: There's no swimming here, but if you want a nice walking spot, Pedregal is gorgeous. It's also one of the best places to see the sunset. Get there early, as the gates often close well before sundown.
Santa Maria Beach: Another amazing beach that tends to stay open is Santa Maria Beach. You'll find bathrooms, showers, and walking vendors selling fruit and drinks here. Snorkeling is a great way to spend a few hours if you bring your gear.
How to Get to Cabo Beaches
Now you know where to go, let's look at how to get there! You have a few choices.
First, you should know that Uber and Lyft are not great options in Cabo San Lucas. There have been disputes in some areas of Mexico, so it's not recommended that you use these services. Instead, use a taxi or shuttle service like SJD Taxi or a private car service.
Since Lovers Beach is accessible only by boat, you'll want to arrange this before heading out. Contact Pure Cabo's concierge service to book a regular water taxi or a glass bottom boat for maximum enjoyment.
Your trip to Cabo San Lucas will be the highlight of your year. Let us help you plan it.