2020 SJD Airport Maps & Flight Info
The Cabo San Lucas International Airport (SJD) primarily serves the area of Los Cabos, which covers Cabo San Lucas, San José del Cabo, and Los Cabos. It is nestled on the southernmost tip of the Baja California peninsula. The airport is about 12 kilometers (7 1/2 miles) from downtown San José, which is about a 20 minute drive. It will take you around 40 minutes to reach downtown Cabo San Lucas, which is 44 kilometers (about 27 miles).

According to the SJD authority, the airport served almost 5,250,000 passengers in 2018. The figure represented an increase of nearly seven percent over the total arrivals and departures in the facility in 2017. The SJD is, in fact, the sixth busiest airport in all of Mexico!
You can find the Cabo Airport Maps & Flight Info here.
SJD Airport's Two Terminals
The airport currently has two major terminals: Terminal 1 and Terminal 2.
Terminal 1 only serves domestic flights. So, if you are flying to or from anywhere in Mexico, Central America, or Latin America, this is where you will arrive and depart.
The terminal serves the following airlines:
Aereo Calafia
Aeromexico
Aeromexico Connect
Interjet
Magnicharters
Transportes Aeropacifico
Viva Aerobus
Volaris
Terminal 2 serves international flights to the United States, Canada, and recently, the United Kingdom.
The terminal serves the following airlines:
AirTran Airways
Air Transat
Alaska Airlines
Air Canada
American Airlines
Delta Air Lines
Frontier Airlines
Jazz Airlines by Frontier
Miami Air International
Sky King by Frontier
Southwest Airlines
Spirit Airlines
Sun Country Airlines
Sunwing
United Airlines
US Airways
USA 3000
Virgin America
West Jet
See all the Cabo Airport Maps & Flight Info here.
Terminal 2 underwent some renovations and expansion as part of the 5-year development plan undertaken by the Mexican government. As a result of the program, there are now more than 34,000 square meters of additional space in Terminal 2.
In addition, the airport authority also added 10 Departure Gates in Terminal 2, as well as check-in counters, amenities, concessionaires, stores, and other services. The expansion speaks volumes of the robust tourism industry of Cabo San Lucas.
Just like most airports, you are encouraged to be there at least two hours before your scheduled departure for domestic flights, and three hours before your scheduled departure for international flights. You can check-in online first to save you some time. You will likely spend between 30 minutes and over one hour passing through immigration and security checks. Account for additional time if you are checking your bags at the counter.
What to Expect Upon Arrival
You have to fill out the official Mexico Customs Form and declare any items that are not duty-free. You will then go to the counters so your visa can be stamped for entry.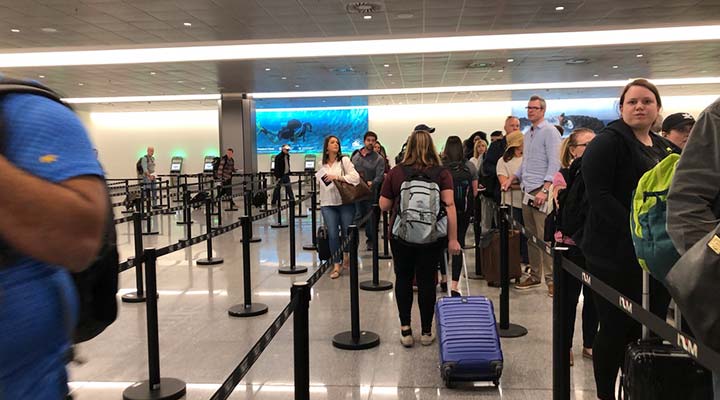 After that, you proceed to the Customs inspection. Watch out for the green light, which means you can pass the gate. If you see a red light, you can hand over your luggage for inspection.
When you are in Terminal 2, you can take advantage of the Cabo airport VIP service, which cuts through a lot of the process. You can get out of the gates the quickest time possible.
Transportation
If you have already reserved a shuttle service, you can easily find them when you walk out of the terminal gates. These shuttle services are locally known as Umbrellas. Alternatively, you will also find plenty of taxis outside. For the best deal, book your airport transportation in advance.