Cabo Airport Shuttle Services: Shared vs. Private Transportation
Your journey to the paradise that is Cabo San Lucas all begins at the airport. Deciding on the airport shuttle service that will bring you to your hotel, resort, or private villa is crucial as it sets the tone for the whole trip.
A shared shuttle is a 10-seater van that you share with other passengers. Private transportation service is SUVs and coaches that you book exclusively for you and your party.  These private vehicles provide free cold beverages during the trip.
Whichever you choose, these transportation services are sure to deliver impeccable service. They have professional, bilingual drivers, delayed flight monitoring, and handicap accommodations. There are factors to consider when choosing which one best suits you and your group.
Read on as we weigh in on these two transportation services.
Cost
The cost of a shared shuttle is per passenger. Prices begin at $17. It is more economical than private transportation, which is priced per vehicle. Pricing for private transportation starts at $145 for a two-way transfer. If you are on a budget, a shared shuttle service is the best choice for you.
Stops
A shared shuttle will have to stop for the destinations of the other passengers on the trip. Since each van has a 10 -passenger policy, expect three to four stops along the way. Private transportation, on the other hand, will bring you precisely to your destination. It will only stop upon your request. Usual stops for private vehicles are grocery stores like Costco, California Market, or Walmart.
Travel Time
A shared shuttle will usually take 45 minutes to 1½ hours to get to your hotel, not considering the traffic situation. It is due to the various stops for other passengers' destination. Private vehicle travel time will be considerably shorter. It will take about 30 to 45 minutes, assuming that you go straight from the airport to your villa.
Child-Friendliness
Private transportation is more suitable for travelers with children. It can accommodate restroom breaks for the little ones or requests for a drive-through stop at their favorite burger place. Children (or parents) who can't wait to be in their hotel room can benefit from the faster trip provided by private transportation.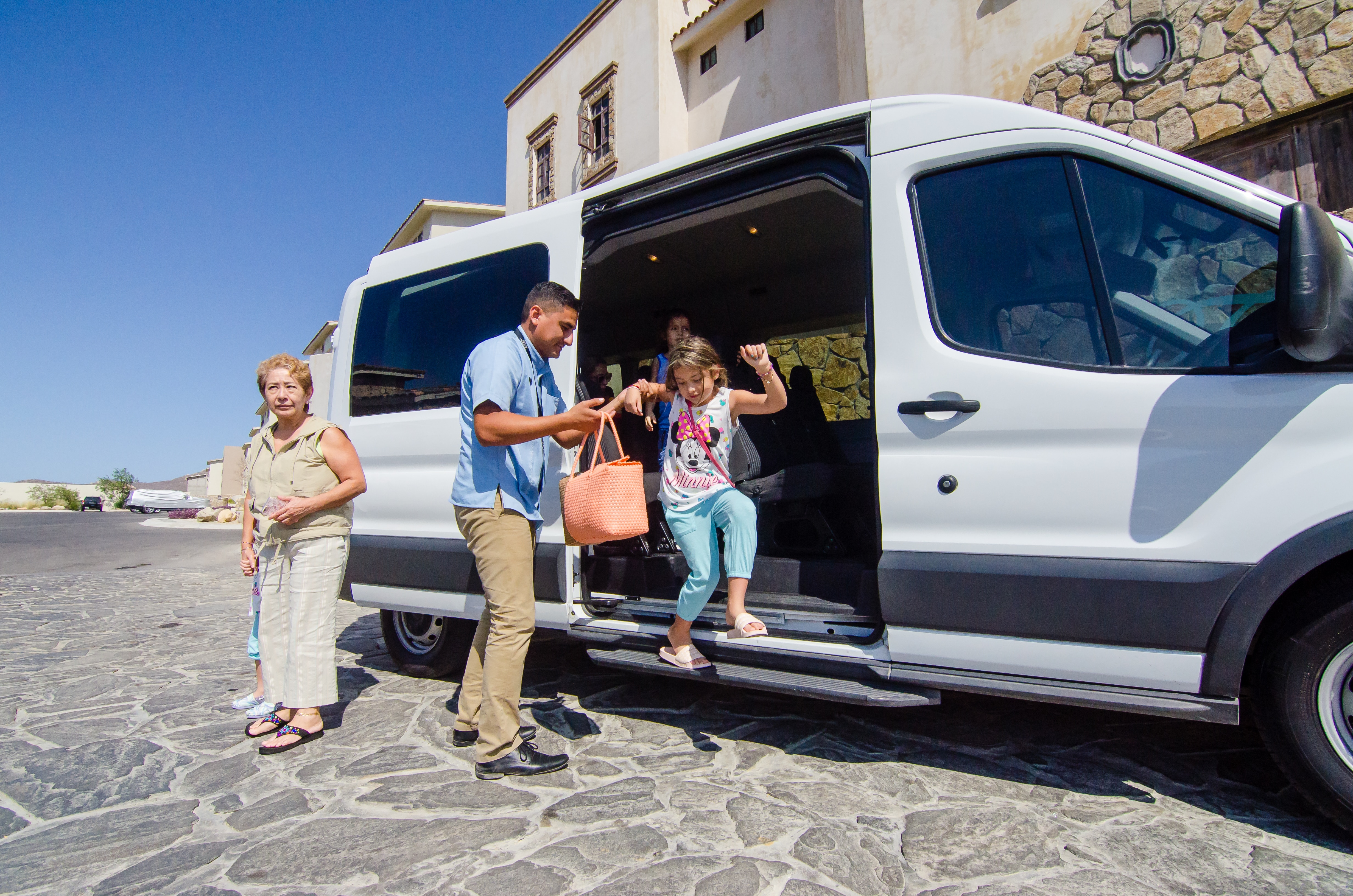 Luggage Space
The shared shuttle has limited space for luggage, since you will be sharing it with nine other passengers. If you are a light packer, this won't be a problem. But if you plan to bring several bags with you, then a private vehicle is your best option.
Privacy
If you are someone who values your privacy and personal space, a private vehicle would be your best bet. Go straight to your villa or hotel without being noticed. Ride in peace at the comforts of your very own car.
Cabo Transportation Done Right
Airport transfer services are one of the many considerations in planning your vacation. Both private and shared transportation will be able to bring you to your destination successfully. Choosing the perfect one for you will depend on your budget, personal preferences, and your companions. Whatever you decide, Cabo San Lucas will welcome you in all its beautiful glory.